Attorney General Josh Shapiro is living up to his well-earned reputation as an anti-gun bully.
As you may recall, AG Shapiro wrote the blatantly unconstitutional 80% lower ban opinion in December of 2019, which would have reclassified unfinished receivers as firearms.
Fortunately, that opinion was blocked by a Pennsylvania judge in early 2020, but the case is still pending review.
This time, Shapiro has taken his bullying tactics to a new level by harassing Pennsylvania gun show promoters to stop selling P80 firearm kits.
Polymer 80 (P80) Kit
Several prohibited persons were caught intending to resell assembled P80 firearms at a recent Morgantown, PA gun show which precipitated the AG's wrath upon the show promoter, Eagle Arms.
According to WHYY, the AG's prosecutors struck a deal with Eagle Arms to stop show vendors from selling P80 kits. The deal adversely affected the show vendor, JSD Supply, in particular.
Unfinished receivers are legal to purchase without any background checks. It is also perfectly legal to make your own firearm. The actions of a handful of criminals should not affect the rights of law-abiding citizens.
But that's not how Attorney General Shapiro sees it. Josh Shapiro uses the incredibly spooky term, "Ghost Guns," to refer to any unfinished receiver or firearm kit, like the P80. And he believes they should be banned!
So, AG Shapiro and Philadelphia Representative Amen Brown (D-190) teamed up to start their crusade against "Ghost Guns," the latest scapegoat to blame for criminal activity.
In response to the pressure, Eagle Arms decided to stop allowing P80 kits to be sold at their gun shows.
While billed to avoid the push for a ban on unfinished receivers, the effect of the Shapiro-Brown alliance will likely have the opposite result. It will be used as a reason for advancing bills to ban 80% lowers, pointing to the fact that a "pro-gun" organization considers unfinished receivers "a problem."
Cam Edwards of Bearing Arms agrees. In a recent article about the compromise, Cam said:
I fear that Koehler's decision [the owner of Eagle Arms] will not only put more pressure on other gun show promoters and gun store owners to also ban the sale of unfinished frames and receivers, but will add more weight to the argument of anti-gun politicians that the sales of these items should be forbidden by law, not just by dealer's choice. I truly hope that Koehler's decision to exercise his freedom to choose what items are sold at his gun shows doesn't result in less freedom for the rest of us.
But that is exactly what is beginning to unfold!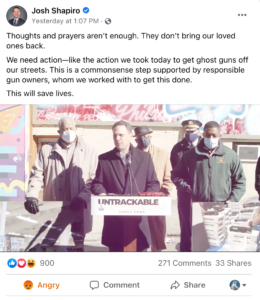 Almost immediately after the compromise, AG Shapiro praised the "commonsense step supported by responsible gun owners, whom we worked with to get this done." [see photo]
Shapiro was also quoted in the video saying, "Responsible gun owners know this, responsible gun show promoters know this, and these folks want to take ghost guns off our streets, and so we met them as we worked with them, we came up with a solution that's going to save lives."
Folks, this terrible outcome is a direct result of the compromise between a "pro-gun" group and Philadelphia's anti-gun forces.
And the betrayal has not gone unnoticed by the wider gun rights community. You can read about it in AmmoLand and The Truth About Guns. Nationally renowned YouTubers like Jared Yanis of Guns & Gadgets and Hank Strange have also chimed in.
The stage is now set for a push to ban unfinished receivers at all gun shows across America since this news is getting national attention.
There are bills in both the House and Senate to ban 3-D printed guns and unfinished receivers right here in Pennsylvania.
SB 413/HB 271 – bans 3-D printed guns.
SB 414 – bans unfinished receivers (i.e., "Ghost Guns")
HB 414 – bans "undetectable" firearms
Future bill by Rep Michael Driscoll (D-173) to ban unfinished receivers
Given the political climate after the compromise, I am very concerned that the above legislation may get traction, particularly the Senate bills.
That's why I need you to take action now by filling out the form above. Let your state legislators know that you are against ANY attempt to regulate your ability to make your own firearm, whether by 3-D printing, purchasing an unfinished receiver, or buying a gun kit.