SUMMERFIELD — Marion County sheriff's officials say a homeowner armed with an AR-15 shot and killed two intruders and was injured himself during a home invasion robbery in Summerfield Wednesday night.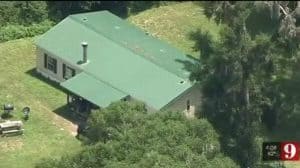 According to the Marion County Sheriff's Office, two other robbery suspects — Robert John Hamilton, 19, of Ocala, and Seth Adam Rodriguez, 22, of Belleview — were detained near the scene.
Nigel Doyle, 22, of Summerfield, and Keith Jackson Jr., 21, Ocala, were killed. The homeowner, whose name was not released by the Sheriff's Office, was in stable condition at a hospital Thursday afternoon.
Rodriguez was arrested on charges of murder and home invasion robbery with a firearm. Hamilton faces home invasion robbery with a gun. Both men were being held in the Marion County Jail without bond…
Sgt. Micah Moore found Doyle with a gunshot wound and a shotgun next to him on the ground. Deputies entered the home and found Jackson dead on the dining room floor. Detectives said he was wearing a "Jason" mask on top of his head, gloves on both hands, jeans and a black shirt.
Near Jackson's head was a semi-automatic pistol, detectives said.
Continuing into the home, deputies found the 61-year-old homeowner in a bedroom.
According to sheriff's officials, he had an AR-15 rifle on his legs and was bleeding from a gunshot wound to the stomach. Doyle and the homeowner were transported to Ocala Regional Medical Center, where Doyle died…